The Cruel Prince
by
Holly Black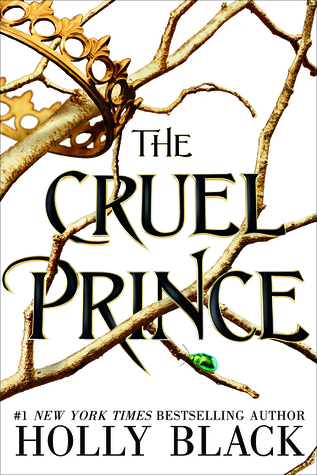 "Of course I want to be like them. They're beautiful as blades forged in some divine fire. They will live forever.

And Cardan is even more beautiful than the rest. I hate him more than all the others. I hate him so much that sometimes when I look at him, I can hardly breathe.
Jude was seven years old when her parents were murdered and she and her two sisters were stolen away to live in the treacherous High Court of Faerie. Ten years later, Jude wants nothing more than to belong there, despite her mortality. But many of the fey despise humans. Especially Prince Cardan, the youngest and wickedest son of the High King.
To win a place at the Court, she must defy him–and face the consequences.
In doing so, she becomes embroiled in palace intrigues and deceptions, discovering her own capacity for bloodshed. But as civil war threatens to drown the Courts of Faerie in violence, Jude will need to risk her life in a dangerous alliance to save her sisters, and Faerie itself."
This was the book from January Fairyloot box and i was so glad when i see it because i just love the cover and the blurb, so i have ended up buying it anyway.
I really like fantasy books, and those of you that read this genre know that there is a lot of species we can read about. For me it is not usual to read about Faeries, so i was super excited about this world and it was a great surprise when i discover how it was created. Really like the fact that the human world was placed in the actual times and not in a medieval kind of way and that in the Faerie world there are so many different species of creatures. The fact that the humans are saw was inferior beings is a little difficult for me at the beginning but them i get why it is that way and i really like the plot line.
As for the character's i will say that i like both Jude and Cardan and i dislike them also, let me explain, the character's personality was well built and i can understand why they are the way they are, but come on..... some of their attitudes (especially Jude's) i cannot understand. Why she did the things she did was beyond me and i think some of the choices are not realistic.
I gave it 4.2 out of 5*, it was one of the most difficult books to rate so far because i did not understand some of the directions the plot line takes but at the same time i could not put the book down and when i finish it i only want the next one to devour it. I cannot talk more about this book without making spoiler so i will only say that this is a book everyone should read and i'm sure you will get so many emotions during the read that it will conquer you either way.