Scarlet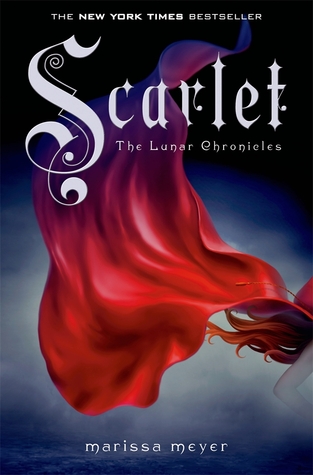 Cinder, the cyborg mechanic, returns in the second thrilling installment of the bestselling Lunar Chronicles. She's trying to break out of prison—even though if she succeeds, she'll be the Commonwealth's most wanted fugitive.

Halfway around the world, Scarlet Benoit's grandmother is missing. When Scarlet encounters Wolf, a street fighter who may have information as to her grandmother's whereabouts, she is loath to trust this stranger, but is inexplicably drawn to him, and he to her. As Scarlet and Wolf unravel one mystery, they encounter another when they meet Cinder. Now, all of them must stay one step ahead of the vicious Lunar Queen Levana, who will do anything for the handsome Prince Kai to become her husband, her king, her prisoner.
My Review:
This is the second book from the Lunar Chronicles series by Marissa Meyer and i could not stop myself from reading it right after i finish the first one. Again i listen to this on audiobook and i just love the narrator, definitely recommend this series on audio.
This books is a fairy tale retelling and this time it is Red riding wood the tale being retold. The plot takes place almost at the same moment the previous book finish but in another part of the world and with different characters.
We are introduced to Scarlet, a teenager that is in search for her missing grandmother and wolf a street fighter that is going to help her.
Again this book brings much more that the usual retelling, the plot is imaginative and we are always trying to guess what will comes next. In Cinder we get almost what we are expecting from a cinderella retelling, instead in this second books we get many surprises and twists. The only thing i do not really like was the fact that the universal plot do not get much advance to it, that is we get to see and learn a lot more about Cinder past and what happens to bring the characters to that point of the story, but in the final of Scarlet we are almost at the same stage we were when we start the book.
I gave this book 4.25 out of 5*, i could not give more because of the sense that the plot does not evolve but at the same time i could not give less because i really like scarlet and wolfs story.
I'm so so curious about what will happen in next books that i think i will start it soon enough.